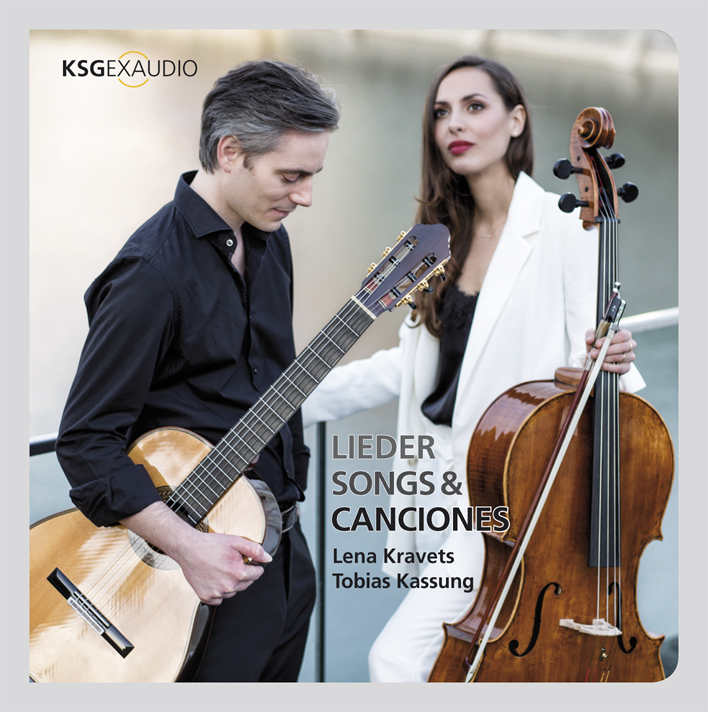 Lieder, Songs & Canciones
Violoncello & guitar - an enchanting combination, played by two exceptional artists: cellist Lena Kravets and guitarist Tobias Lassung let their instruments sing and seduce the audience into the world of "Lieder, Songs & Canciones".
Kravets & Kassung combine classical songs by Brahms and Schubert, jazz songs by George Gershwin and Ella Fitzgerald, Spanish canciones by Manuel de Falla, Russian romances by Michail Glinka and tango ballads by Astor Piazzolla. With breathtaking musicality and perfection, they cast a spell over the audience. You can tell from the first note how Kravets & Kassung love this music and put their whole heart and soul into every note. An impressive experience for great musicians! The album is available from all common online providers as a streaming or download.
Michail I. Glinka (1804-1857)
(Arr.: Tobias Kassung)
Ich erinnere mich des zauberhaften Augenblicks
Tobias Kassung (*1977)
Variationen auf ein russisches Volkslied, Op. 14
Johannes Brahms (1833-1897)
(Arr.: Tobias Kassung)
Wie Melodien zieht es mir, Op. 105 Nr. 1
Liebestreu, Op. 3 Nr. 1
Franz Schubert (1797-1828)
(Arr.: Tobias Kassung)
Ständchen
Das Fischermädchen
Manuel de Falla (1876-1946)
(Arr.: Tobias Kassung)
Siete Canciones populares Espanolas
1. El pano moruno
2. Seguidilla murciana
3. Asturiana
4. Jota
5. Nana (Berceuse)
6. Cancion
7. Polo
Astor Piazzolla (1921-1992)
(Arr.: Tobias Kassung)
Tanti anni prima
George Gershwin (1898-1937) / Tobias Kassung (*1977)
Summertime - Hommage an Joe Pass und Ella Fitzgerald
Joseph Kosma (1905-1969) / Tobias Kassung (*1977)
Autumn Leaves